Roy's Penn Dutch Ride 2022 – June 24 through June 26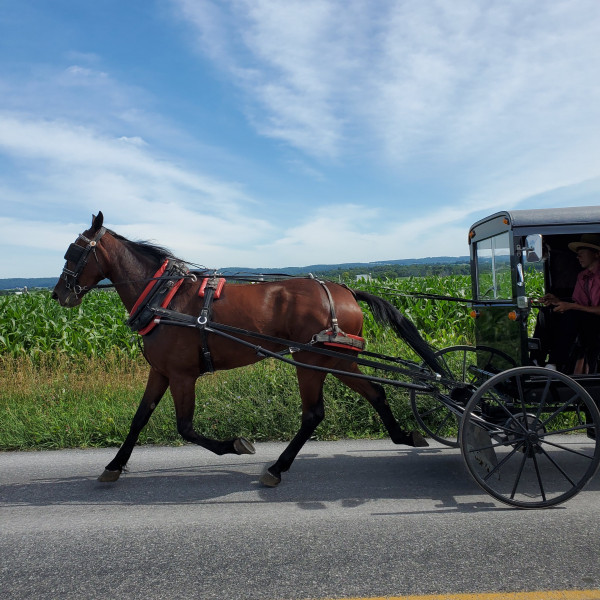 This summer will be the 7th Penn Dutch trip that I am running.
I think it will be the best!
Lodging Other Activites Dinners Rides for the weekend Lodging
We are staying at a new resort this year. It's the Bird-in-Hand Family Inn.  The discounted cost is $148.00 per night for single or double occupancy. Please call  800 627-1910 to make a reservation. Tell them that you are making a reservation for Roy's Penn Dutch Weekend to get the discounted rate. (Check in is at 3pm and check out is at 11am.) If you decide to cancel, the  full price will be refunded up to 24 hours before our stay on June 24. Breakfast is not included at the hotel but the on-site restaurant is the  Bird-in-Hand Family restaurant. Diners can either order the breakfast smorgasbord or off the menu.
Note: bicycles can be brought to your room. There may also be a secure room available.
There are so many attractions on site and nearby that everyone will find something to enjoy when they are not bicycling through the lush farm fields. Here's a link to some of the attractions in the area.
All the extras will also be great for those who don't want to bicycle each day and for anyone who wants to bring a youngster
I have reserved rooms in the pool building at the resort. It is the one with the large outdoor pool outside. 
If the weather is not great for the outdoor pool, there are two indoor pools and a hot tub.
Other Activites The other activities at the hotel are: pool table, ping pong table, game room, two tennis courts, basketball court, playground, fitness room, and a walking path. There is also a free two hour bus tour of the Amish farmlands. (available Saturday, please reserve in advance)   For a small additional fee: Water's Edge Mini Golf Petting zoo Admittance to the on-site show at the resort at a discounted cost.   And next door to the hotel is the popular Bird-in-Hand Farmer's Market. Closed on Sunday as are many businesses in this area. Dinners Friday at 7pm – we will dine at the historic Revere's Tavern – 3.3 miles away Saturday at 7pm -we will eat at one of the most popular smorgasbords in the area, Miller's – 1.9 miles away   At Millers, the policy is for groups to pay in advance and have one person pay for the group. The cost for the soup, bread and salad bar is $14.99 plus 6% tax (.90) and 18% gratuity ($2.70) =$18.59  The full smorgasbord is $22.49 plus 6% tax (1.84) and 18% gratuity ($4.05) = $28.38.  The price for a child's smorgasbord is less. When you sign up for  the hotel, please send me the smorgasbord cost through Zelle. You can send it to my cell number (718) 887-1854. Or you can send it through Venmo, to Roy-Fischman. Rides for the weekend Bike Rides for the Weekend -all the rides, except the river trail ride, will leave from the back of the hotel. Please note in the ride description that flat, is relative to this area, they are not completely flat.   Friday at 3pm  Bird-in-Hand 14 miles flat note: if you want to change into bike clothes before the ride and your room is not ready, the locker room at the pool can be used.   Saturday rides at 9am Conestoga Cruising – 50 miles flat Conestoga and Lapp Valley 27 miles flat   Sunday rides at 9am Spring Garden 31 miles rolling Bird-in-Hand 20 miles flat    Since check out time for the hotel is 11am, anyone who returns later can shower and change in the locker room by the pool   If anyone wishes to try someplace else to ride, there is the Northwest River Trail. Start at Columbia Crossing River Trails Center, 41 Walnut St, Columbia, PA 17512. The trail is 20 miles from the hotel. The trail is flat, paved, not a rail trail 14 miles total, beautiful trail with river views, eagle's nest, etc. along it. (If enough people wish to go to this, we can possibly get a leader to go along)