Roy's Penn Dutch Ride 2023 – June 23 through June 26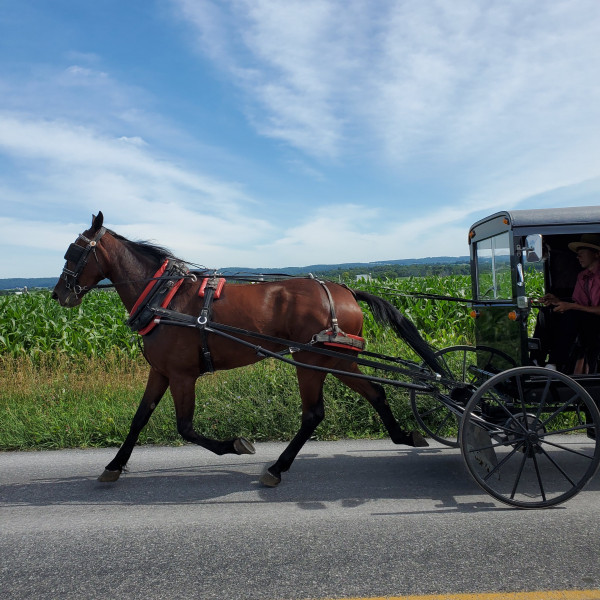 See this unique area of Pennsylvania from your bicycle. Experience riding on roads along with Amish buggies and Amish push scooter bikes.
We will ride routes mostly through the farmlands with leaders and members of the friendly Lancaster Bicycle Club. We will again be staying at the resort-style Bird-In-Hand Family Inn in the pool building.
The discounted cost is $150 for the room, single or double. $160 for the room for 3. $170.00 for the room for 4. The phone number to reserve is (800) 627-1910 or (717) 768-1100. For the discounted price, make your reservation under Roy's Penn Dutch Weekend. Cancellations are accepted up to 24 hours before the first day, June 23 at no charge to you. Check in at the hotel is 3 pm and check out is 11 am. (Rooms are often ready before 3 pm and a later check-out can be requested). Bicycles can be brought to the rooms.
Hotel amenities in each room
free wifi
2 queen size beds in each room
flat screen TV
refrigerator
microwave
Activities at the hotel
outdoor and indoor swimming pols, plus hot tub
two tennis courts
basketball court
kid's playground
fitness room
game room
walking path on the hotel property
mini golf on the hotel property at Water's Edge mini golf (additional fee)
There is an onsite theater. They will have a musical comedy called "Dear Soldier Boy". Playing on Friday, June 23 at 7 pm and Saturday at 1 pm (717) 768-1568
Free two hour Amish Farmland Tour given Monday through Saturday by making a reservation at (800) 665-8700
There will be a convention of model train collectors at the hotel. They are planning to set up some displays that we can see at the hotel.
Activities to do nearby if you're not bicycling. – many are closed on Sunday
Wineries that have tastings
Schedule for the Weekend
Note that all the rides will be led by leaders of the local Lancaster Bicycle Club
Most rides will start at the back of the hotel by the sign "Tour Pickup"
The ride classifications they use below are "Flat" no more than 5.7 grade and "Rolling" no more than an 8.1 grade.
Friday

3pm Bird-in-Hand short ride 14 miles, flat. After the ride, walk, or bicycle to the Bird-in-Hand Farmer's Market next door
7pm Dinner at Revere Tavern – 3.3 miles away
Saturday

Two breakfast choices, Bird-in-Hand restaurant (buffet or individual menu), at the hotel property, or Bird-in-Hand Bakery and Café across the street
9 am Conestoga and Lapp Valley ride 27 miles, flat-
9:30 am Three Mile Island ride, 50 miles, rolling (Don't worry about radiation, none there now) starting from Landisville Middle School 13.9 miles. We will stop for a wine tasting at Nissley Vineyards if most of us agree
9 am Northwest River Trail. Easy flat The start will be at 29 Furnace Rd, Marietta PA 21 miles from the hotel. This ride is flat and paved and the distance is 20 miles. There is also a Riverfest being held that day
7 pm Dinner at Conestoga Restaurant 5.3 miles away. Save some room for possible smores back at the hotel around a campfire
I hope that you can join us for this memorable weekend. Non-bicycling family and friends are welcome to come along. There's plenty of things to see and do.