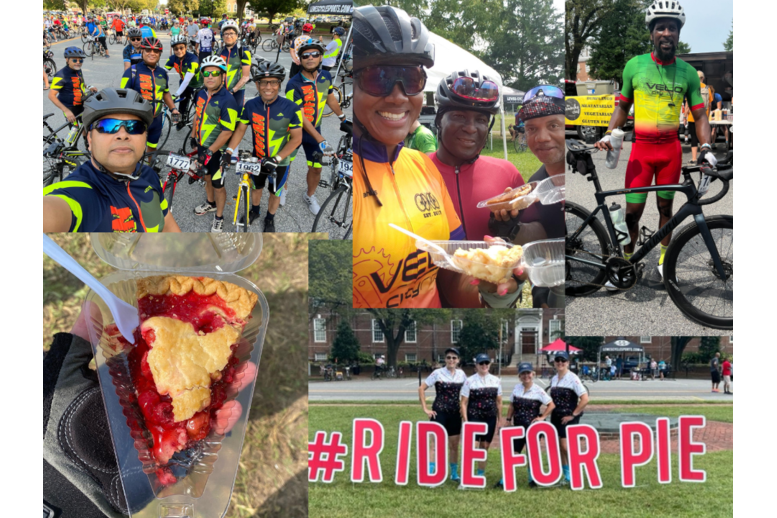 38th Annual Amish Country Bike Tour
If you've already registered, welcome back & tell your friends!
Also known as "the ride for pie" this is one of the mid-Atlantic region's favorite cycling events known for its unique character and atmosphere.
Routes of 16, 25, 50, 62, and 100 miles will leave from Legislative Mall, 410 Legislative Ave., Dover, DE, and wind through central Delaware's peaceful (and flat!) Amish countryside. This ride is perfect for your first century!
This is not a timed event or race.
Motor vehicles are not restricted on the routes of the Amish Country Bike Tour. Follow all rules of the road. Never cross a yellow line, not even to pass.
Up to 5 rest stops are included, depending upon distance but ALL routes stop at the Amish Schoolhouse (Dover), where you'll enjoy our freshly baked, famous, fresh locally baked pie. Following the bike tour, everyone returns to Legislative Mall for your catered lunch (included in your ride purchase) from one of our food truck partners, non-alcoholic beverages, adult beverages (with purchased tickets), entertainment with Glass Onion, DJ, merchandise sales and a variety of vendors. All the extra fun (except your piece of pie and ride) is held on Legislative Mall in historic downtown Dover, Delaware.
The Amish Country Bike Tour is a rain-or-shine, non-refundable event. There is no rain date.
In case of severe weather or restrictions mandated by local, state or federal government, Bike Delaware volunteers reserve the right to cancel/alter/modify the tour for safety and other concerns. In any event, we cannot refund tour entry fees or transfer registrations to the following year. In the unlikely case a tour is canceled, you may claim your registration fee as a tax-deductible donation. Unfortunately all expenses occur prior to the actual event. Should we be forced to cancel or offer deferrals, the financial impact to the event would not be any different than if the even was held in it's entirety. Thus, refunding or deferring any entry fees would devastate the future of the Amish Country Bike Tour.
The Amish Country Bike Tour is managed by Bike Delaware volunteers who support Bike Delaware, a 501(c)(3) nonprofit organization that advocates for safe, convenient and fun cycling and walking for everyone. All funds raised from the Amish Country Bike Tour support Bike Delaware's mission and vision, as well as our community supporting organizations.
*Current pricing and timing is subject to change throughout the year based on rising costs in the marketplace
#rideforpie #amishcountrybiketour
For more information visit amishcountrybiketour.com
or email Info@bikede.org
Join the fun and follow us on Facebook, Instagram or X for up-to-date info, photos of past rides, contests and conversation!